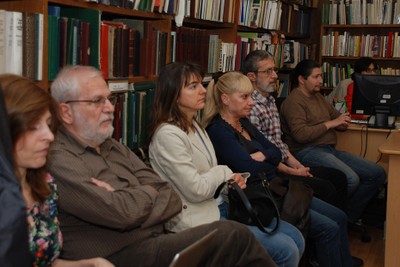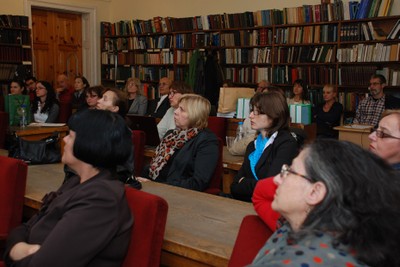 Annual Meeting 2013

The annual meeting took place at the Central Library of BAS on Oct 29th between 2 and 3 pm.
The following representatives were present:
- of the founding libraries: LSU – Anna Angelova (director), Bilyana Yavrukova (deputy director), Teofana Kirova (head of Automation Department); AUBG – Sofia Katsarska (library director); CL-BAS – Silviya Naydenova (acting director), Nikola Kazanski (Library Studies and Bibliography Research Group), Mariya Simeonova (librarian).
- of the National Library – Aneta Doncheva (deputy director) and Tsvetanka Pancheva (head of Digital Library Department).
- of the following NALIS associate members: NBU library – Radostina Todorova (head of Library and Information Services Department); Central Medical Library – Margarita Stamatova (director), Mariya Chocheva (librarian); American Research Center in Sofia – Elitsa Popova (librarian), Boyana Boyanova (librarian); Technical University – Hristina Dimitrova (library director); Ivan Vazov Public Library, Plovdiv – Dimitar Minev (director) Petko Georgiev (Special Collections Department), University of Mining and Geology – Krasimira Mihaylova (director), Central Agricultural Library – Pepa Slavova (deputy director), University of Chemical Technology and Metallurgy – Maiya Pencheva (library director).
- guests: University of Architecture, Civil Engineering and Geodesy – Persida Rafailova (library director).
- of ABF: Vanya Tsankova, Education and Libraries Program Director
- of NALIS: Rumen Avramov (chairman of the Board of Directors), Mariana Silyanovska (member of the Board of Directors), Dincho Krastev (executive director), Sabina Aneva (deputy executive director), Nicola Stoyanov (system administrator), Evgeni Dimitrov (system administrator), Ekaterina Dikova (project manager).
The meeting was open by Dincho Krastev, who announced the forthcoming innovations and technological decisions for NALIS. Then Sabina Aneva presented the Interlibrary Loan Module to be used through the NALIS Union Catalogue.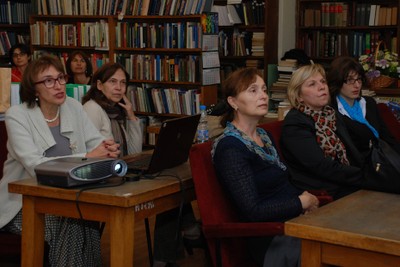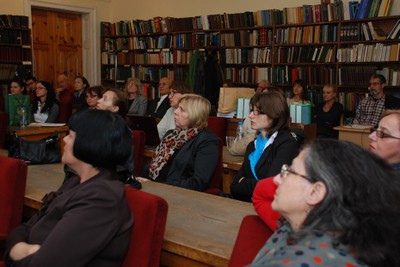 The participants expressed their satisfaction by both the spirit of collaboration between the member institutions and their expectations for a successful overcoming of the professional challenges all of them meet on a daily basis.
At the end, representatives of various libraries greeted the Sofia University Library in the occasion of 1`25 anniversary of its creation. Its director Anna Angelova received addresses from the NALIS Foundation, the America for Bulgaria Foundation, the Central Library of BAS, the Public Library in Plovdiv, the Public Library in Veliko Tarnovo, the National Library.
The meeting was followed by the workshop in the framework of EuropeanaPhotography entitled Undisclosed Treasures from Photo Archives, in which presentations were given by representatives of the National Museum of Literature, the Institute of Art Studies at BAS and the Plovdiv Public Library.