Annual Meeting 2015

| | |
| --- | --- |
| | The annual meeting оf the NALIS associate members took place at the Sofia University (First Hall) on 26 March. |
| | | |
| --- | --- | --- |
| | It was open at 10 a.m. with a short welcome note by Anna Angelova, the SUL director. All the participants held a minute of silence for the departed Dincho Krastev, the former executive director of the NALIS Foundation. | |
Sabina Aneva presented the NALIS activities during 2014. The main emphasis of her talk was on issues related to digitisation and to search statistics.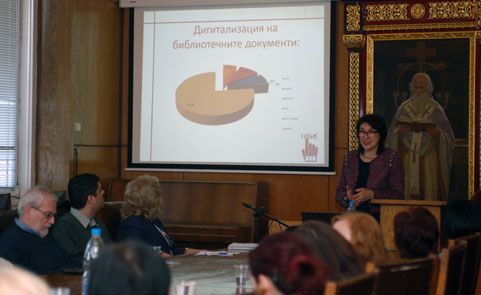 In informal talks during the coffee break, the participants discussed various questions related to digitisation of library items, the module for interlibrary loan through the NALIS Union Catalogue and shared library best practices.

The following representatives (the total number is 46) took part:
- of the America for Bulgaria Foundation: Vanya Tzankova – Director, Impact Assessment and Evaluation;

- of the founding libraries: SUL – Anna Angelova (director), Bilyana Yavrukova (deputy director), Teofana Kirova (head of Automation),Diyana Katovska (head of Interlibrary Loan), Lyudmila Nenkova; AUBG – Sofia Katsarska (library director), Elka Bogusheva (head of Catalogisation); CL-BAS – Silviya Naydenova (acting director);

- of the National Library: Aneta Doncheva (deputy director);

- of the following NALIS associate members: NBU library – Nadya Terzieva (director), Radostina Todorova (head of Library and Information Services); Central Agricultural Library – Margarita Stamatova (director), Sofia Technical University – Hristina Dimitrova (library director); Plovdiv Public Library – Dimitar Minev (director), Antoaneta Lesenska (deputy director), Any Gramatikova, Todor Nenov; University of Mining and Geology – Irena Kartselina; University of Chemical Technology and Metallurgy – Maiya Pencheva (library director), Evgeniya Dishovska; Plovdiv Medical University – Maya Urumova (library director); Technical University of Sofia, Branch Plovdiv – Stoyanka Delcheva and Manuela Koleva; Plovdiv University – Slavena Zapryanova; Cyrillo Methodian Research Center at BAS – Neli Gancheva; St Trivelius Christian Institute – Krasimira Dimitrova; Union of Architects in Bulgaria – Yuliana Glushkova (library director); VUZF University – Irena Petrova; National Defence Academy – Veselina Yordanova and Zoya Krachunova; Sofia City Library – Velislava Marinova and Marchela Borisova; University of Architecture, Civil Engineering and Geodesy – Persida Rafailova (library director), Iliya Georgiev, Veselin Minchev; Burgas Regional Library – Mariya Bencheva (director); National Centre for Information and Documentation – Valentina Slavcheva; Central Medical Library – Lidiya Tacheva and Pepa Kotsilkova.

- of the NALIS Foundation: Roumen Avramov (chairman of the NALIS Board of Directors), Mariana Silianovska (member of the NALIS Board of Directors), Sabina Aneva (executive director), Nicola Stoyanov (system administrator), Evgeni Dimitrov (system administrator), Ekaterina Dikova (project manager).